Australian Hot Water are your local hot water experts since 1985.
Australian Hot Water are authorized Rinnai agents.
We supply, install, service and repair all Rinnai solar hot water systems.
Serving you from nine locations throughout Sydney, Canberra and Newcastle.
Buy From Our Range of Rinnai Solar Hot Water Systems Below
Rinnai 330 Litre Solar Prestige Roof Mount System
Rinnai have developed a range of solar hot water systems that are extremely cost-efficient and have very low environmental impact. In a solar hot water system, the energy for the heater is predominantly supplied by the sun. However, each of Rinnai's solar systems also has a gas or electric booster. This means that if there is little available sunlight, or if the water system is in temporary high demand, there will still be a continuous supply of hot water.
There are three different models of Rinnai solar systems, each with a range of additional features:
Solar Gas Booster Range
Sunmaster Range
Prestige Range
The Gas Booster range is a series of continuous flow systems, while the Sunmaster and Prestige ranges utilise storage tanks. The systems come with a number of options to make them adaptable to be used on almost any home. This includes a choice between flat-plate collectors and evacuated tube collectors. Rinnai also offers storage tanks that can be roof-mounted or installed at ground level. All Rinnai solar products also come with gas or electric boosters to ensure you have hot water, even in bad weather.
Australian Hot Water supplies all Rinnai solar hot water products. If you need any advice on which system is best suited to your home and your family's needs, then just get in touch. Our fully certified technicians can take care of installation, and are also available 24/7 for same-day service and repairs.
Solar Gas Booster
Rinnai have developed a range of highly efficient solar hot water systems to help you save on the cost of heating your water whilst reducing your carbon footprint.
The solar systems are roof mounted collectors absorbing the suns energy which heats the water. The hot water is transferred to a storage tank ready for use. An electric or gas booster is added to the system to ensure there's always hot water for those not so sunny days.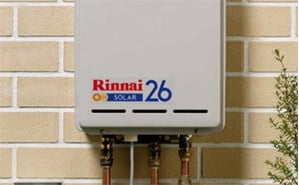 Sunmaster Range
The Sunmaster range are designed to maximise energy from the sun, whilst also providing quality units that are affordable, environment friendly and cost effective.
The range consists of 3 types of solar hot water units, close coupled systems, flat plate systems and evacuated tube systems. Features include cost effective vitreous enamel tanks, highly efficient aluminium fin solar collectors and varying designs depending on your roof structure.
Rinnai Prestige Range
The Prestige Solar Hot Water Systems are highly regarded for their innovation and superior quality. By replacing an electric storage water heater with a Rinnai Prestige Solar Water Heater, you can potentially reduce electricity consumption, running costs and environmental impact of your hot water system by 2/3rds*
Offering three configurations of either a close coupled system, a flat plate system or an evacuated tube system . Featuring Excelsior collectors with TiNOX technology and 444 grade stainless steel tanks.
Why Choose Australian Hot Water
Australian Hot Water are authorized Rinnai agents. That means our staff have been trained, tested and certified in the installation, service and repair all Rinnai solar hot water systems.
Australian Hot Water:
Supply, install, service and repair all Rinnai solar hot water systems
Provide a 24 hour emergency hot water service
Employ fully qualified plumbers and electricians
Offer independent and expert advice
Provide free quotes
Guarantee all our work
Maintain 9 display centres throughout Sydney, Newcastle and Canberra
Offer competitive pricing and regular Hot Deals
Call us today for expert advice and a free quote.