Why choose a Sanden Hot Water heatpump?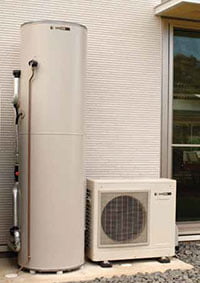 The Sanden "Eco" Hot Water Heat Pump System is an energy-efficient replacement for your traditional electric hot water system. Heat from the air is transferred to heat water, saving energy, money and reducing greenhouse gas emissions.
Sanden Eco Plus 250 Litre Heat Pump
Sanden Eco Plus 315 Litre Heat Pump
Sanden Hot Water heatpumps have one of the highest hot water recovery rate in the heat pump market. This means that you won't run out of hot water.
Industry leading energy efficiency allows you to save up to 78%* of the energy cost required to run your conventional electric storage hot water system
Industry leading quality and performance, now more affordable via the highest level of STC values of any currently available hot water heat pump.
Quick and easy installation – No heavy solar roof panels
Whisper Quiet Operation
highest level of Small scale Technology Certificates (STCs) of any hot water heat pump system
Domestic models
The Sanden Eco Hot Water Heat Pump system is now available with 160L and 250L tanks, in addition to the current 315L Tall and Short tanks. So, you can choose from 4 tanks, each to be combined with the Sanden Eco® Heat Pump unit, as follows:
| | | | | |
| --- | --- | --- | --- | --- |
| Tank size/shape | No. of persons | Dwelling type | Suitable for Off-peak & Continuous tariffs? | STC rebates |
| 160L | 1-2 | Units / Townhouses | Continuous only | Yes |
| 250L | 2-4 | Residential | Both | Yes |
| 315L Tall | 3-6 | Residential | Both | Yes |
| 315L Short | 3-6 | Residential | Both | Yes |
Calculated using ORER methodology #Compared with a conventional electric storage hot water system
Sanden. The leader in hot water technology.
Sanden's Hot Water Heat Pump technology uses 1kW of energy to generate 4.5kW of heat; this is 78 per cent less energy compared to traditional hot water systems.
More information on Sanden Hot Water Systems
For more information on Sanden hot water systems, visit the Sanden website.