Rinnai Hot Water Heaters: Efficiencies, Water Conservation and Installation Versatility
Rinnai hot water products are renowned for their advanced technology, water conservation features, and installation versatility making them the preferred choice in residential applications. Utilising advanced heat pump technology, Rinnai hot water systems ensure your household never runs out of hot water. With some of the most competitive prices on the market, a Rinnai hot water system offers superior capacity to heat water for Australian homes.
Rinnai Hot Water Systems Work
A Rinnai hot water system is designed to meet your household's need for reliable hot water supply at an affordable price. Rinnai hot water systems' optimum performance ensure you can heat water to your desired temperature all day and night. Hot water solutions provided by a Rinnai hot water system last all year round and offer the unparalleled cost effectiveness only a market leader in hot water systems can provide.
Buy Rinnai Hot Water Products Here
Rinnai Hot Water Systems
Rinnai offers an extensive range of hardworking natural gas, electric and solar water heaters designed to suit Australian homes in harsh environmental conditions. From an ultra compact 25 litre unit through to the Rinnai Infinity Continuous Flow Hot Water System, there is a Rinnai hot water system to heat water for your home. Explore the Rinnai range below.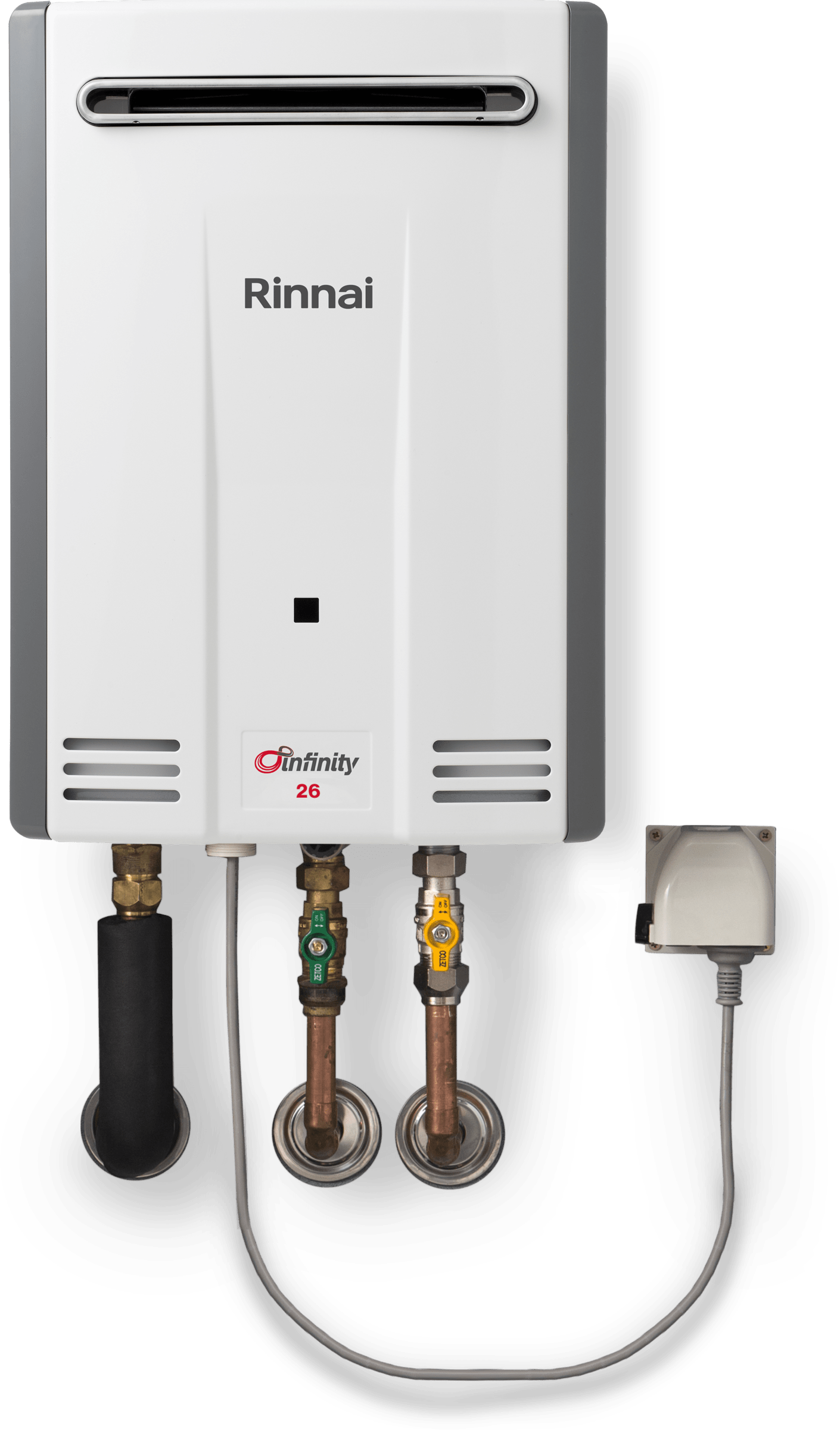 Rinnai's flagship product, the Rinnai Infinity Continuous Flow Hot Water System stands out for its continuous supply of hot water without the need for a storage tank. With its compact design and leading edge Puretemp™ temperature control technology your Rinnai natural gas continuous flow hot water system is both energy efficient and environmentally friendly. Read more...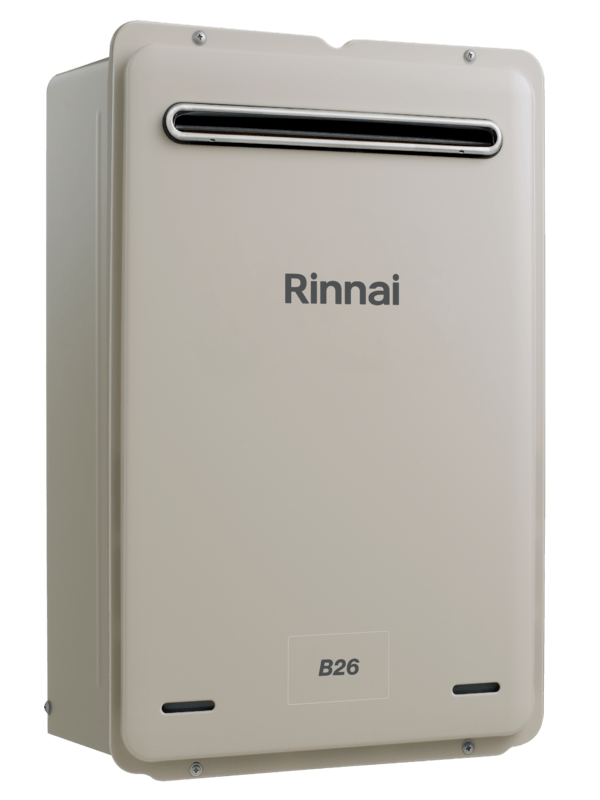 The B series units are the preferred choice of builders. Highly energy efficient with superior 6+ star rating, these continuous flow hot water systems are designed to reduce running costs and greenhouse gas emissions while producing hot water at the the temperature you need. Manufactured using sleek and compact Japanese design and high quality components continuous flow hot water systems are the most technically advanced hot water systems available today. Read more...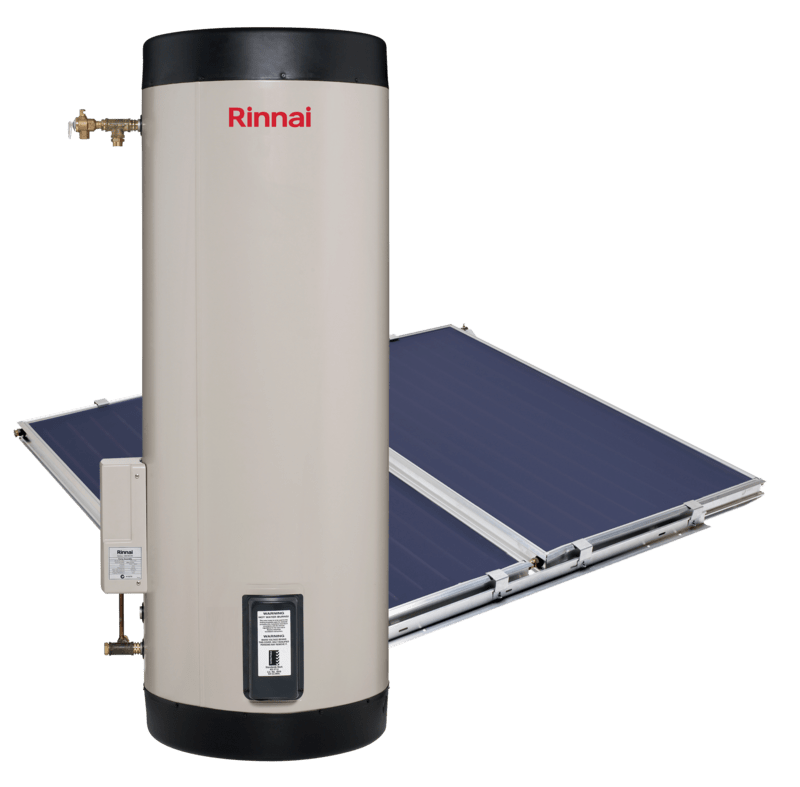 Harness the power of the sun and reduce your energy costs and carbon footprint with a Rinnai Solar Hot Water System. Rinnai's extensive range of solar hot water systems, with close coupled, flat plate, and evacuated tube systems ensure uninterrupted hot water supply even during cloudy days. Find out more about the Rinnai solar range and take advantage of government incentives. Read more...
For those seeking more traditional hot water tanks, Rinnai offers natural gas, electric, and heat pump tanks to accommodate different family needs. Gas storage tanks are available in sizes of 135L and 170L, while electric storage tanks range from 25L to a large 400L model suitable for large families. Read more...
Easy to install and maintain
Manufactured to the highest quality
An extensive range of water heating solutions for small, medium and large businesses.
Read more...
Rinnai Water Controllers
Rinnai hot water controllers are available to purchase alongside your Rinnai hot water heater. Controllers allow you to set your preferred hot water temperature, turn on the tap and enjoy your hot water at the temperature you desire - no more mixing hot and cold water. Some controllers also include litreage control which means you can efficiently monitor how much water you use during your bath or shower. Ask us about Rinnai Water Controllers when you speak to our team.

Rinnai Downloads
Why Choose Australian Hot Water?
When you choose Australian Hot Water, you benefit from our authorised Rinnai agent status. Our knowledgeable team consists of fully qualified plumbers and electricians who have been extensively trained, tested, and certified in the installation, service, and repair of Rinnai hot water systems. If you are looking to upgrade your hot water system, call Australian Hot Water today to discuss how a new Rinnai hot water system can meet your hot water needs. We do our best to offer the most competitive prices.
Contact Australian Hot Water Today
With nine convenient locations throughout Sydney, Canberra, and Newcastle, we are ready to serve you. Contact us today for a free quote on installation of one of our hot water systems or speak to us in person at one of our nine convenient locations throughout Sydney, Canberra, and Newcastle.