Australian Hot Water are your local hot water experts since 1985.
Australian Hot Water are authorized Rinnai agents.
We supply, install and repair the Rinnai Electric & Gas Hot Water Systems.
Serving you from nine locations throughout Sydney, Canberra and Newcastle.
Call now for quick service. We are available 24/7 for hot water emergencies.
Buy From Our Range of Rinnai Heat Pumps Below
Rinnai Enviroflow 315 Litre Heat Pump
Rinnai storage hot water systems are renowned for their quality and endurance. Rinnai's range of Single and Twin element Electric storage tanks, Gas storage tanks and Heat pumps are ideal solutions for replacing existing installations.
The complete range of sizing options ensure there is a hot water tank right for your application. Rinnai hot water tanks come in a number of different sizes, from 25L all the way up to 400L. There are a number of different specifications for each tank that make it more suitable in some homes. The suitability of each Rinnai tank will depend on your family's water consumption needs, as well as the configuration of your home and where you live.
Rinnai also has a range of heat pumps as an alternative to traditional gas and electric powered water heaters. A heat pump is the newest water heater technology on the market. The pump works by taking heat from the air around the pump and channeling it into the storage tank. Heat pumps can be much more energy efficient because they use far less gas and electricity. Rinnai heat pumps will save you money and also lower your environmental impact.
If you want to talk to an expert about which Rinnai hot water system is best suited for you and your family, take the time to talk to one of Australian Hot Water's advisors. Not only do we supply all Rinnai hot water tanks, but we are also fully certified to install them as well. You can also be assured by the fact that we offer a 24/7 contact line for same-day servicing and repairs.
Rinnai Electric Hot Water Systems
The Rinnai HOTFLO and FLOWMASTER Electric hot water storage systems are available in various capacities. From the compact 25 litre unit, through to the super sized 400 litre storage cylinder, there's a tank for every household and application.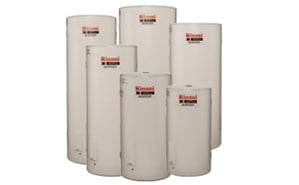 Rinnai Hotflo Gas Hot Water
The HOTFLO 4 star gas storage hot water systems ensure you always have plenty of hot water when you need it most.
The Rinnai Hotflo range offers you a choice of 135 or 170 litre storage capacities and delivers mains pressure hot water to multiple taps at once.
With optimised gas consumption to reduce energy usage without compromising on product performance, allowing sufficient first hour delivery capability whilst maintaining the life expectancy of the heater.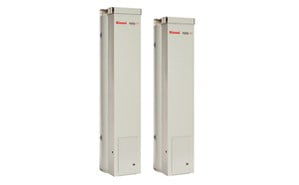 Rinnai Heat Pumps
The HOTFLO Electric Heat Pump hot water storage systems use heat found in the air outside the unit to heat water, without the need for solar panels.
Using approximately one third less power than the equivalent standard electric hot water service, they can reduce your environmental impact, whilst also reducing your hot water bill by up to 25%. Available in a Split Heat Pump and Integrated Heat Pump.