A hot water tank, or a hot water storage system, is an insulated storage tank that heats and maintains water at a high temperature so it can be used throughout the house. There are lots of different types of hot water tanks of different sizes and different power sources. The type of water tank you need will depend on how much hot water you use and also the space you want to install it in.
Find out everything you need to know about hot water storage tanks so that you get the right tank for your needs.
Hot Water Tank Sizes
Hot water storage tanks vary in size, from small tanks suitable for one or two people, right up to 400L. On average, a household member will consume around 50L of hot water each day, plus if connected to hot water, your dishwasher and washing machine could also utilise what hot water is left available for their washing cycles. But the size of the tank also depends on your family members' individual routines – for example, whether everybody showers at the same time in the morning, or whether the hot water usage is spread more throughout the day.
Water Tank Maintenance
Hot water storage tanks sometimes require maintenance to ensure they're still running to maximum efficiency. Sometimes it's necessary to make sure the original installation is still functioning properly, and also that the energy supply is working efficiently.
Australian Hot Water has all your maintenance needs covered to keep your tank running at all times. Our fully certified technicians have the experience and expertise to deal with any problems your tanks might have.
Also, we offer a 24/7 emergency hot water service, so if you've run out of hot water at a bad time, we're there to help. We offer free quotes and advice over the phone as well, so just give us a ring.
Hot Water Tank Replacement
A water tank might need to be replaced if it is too old, is producing rusty discoloured water, is leaking, or if your hot water needs a change. An older tank might lose its heating source or insulating efficiency, which means the tank might produce less hot water or cost more to run.
If your current tank has become a bit old, or if you need a larger or more efficient tank, we can take care of everything you need to replace it. Your replacement tank will need to be able to fit into the space you want to install it, and also be able to connect to the appropriate energy supply.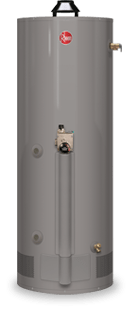 Hot Water Tank Prices
Hot water tank costs depend on the size of the system and energy source it requires. Generally speaking, there's a trade-off between a cheaper system that's more expensive to run, or a more expensive system that's cheaper to run.
Solar and gas-powered hot water tanks generally cost more, and require a bit more work to install, but they are also cheaper and more efficient to run. Electric heaters don't require much work to install and the units are generally cheaper. They're usually a bit more expensive to run though.
Average price range for smaller electric and gas units start from around $600, and you can spend up to $5,000 or so for larger super-efficient solar or heat pump systems.