Bosch Electronic Highflow
Ultimate in convenience and safety.
The all new electronic range of Bosch continuous flow gas hot water heaters are at the forefront of water heating technology. These units are extremely efficient and deliver hot water at predetermined temperatures with up to four optional controllers.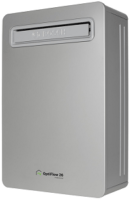 Bosch HydroPower
Fire and water do mix.
HydroPower is the new generation of hot water system ignition from Bosch. By using water flow energy there is no need for batteries, standing pilot lights or external power points and you'll save more on running costs and help with environment sustainability.
Bosch Standing Pilot
Economical and reliable. 
The Bosch standing pilot range of gas hot water heaters are perfect for a continuous and instantaneous flow of hot water. Capable of providing from 10 to 16 litres per minute, this external range will suit most domestic applications.
Bosch Commercial
Designed for your requirements.
Bosch commercial system requirements are designed to meet the high demands of large volumes of continuous hot water. Comprising heavy duty continuous flow and storage systems, Bosch can provide a custom solution for your commercial hot water application.
Bosch Accessories
For your extra needs.
The Bosch range of hot water system accessories caters for the extra needs of today's modern consumer. Accessories include optional Bosch temperature controllers, Lockable recess boxes, Fully enclosed recess boxes, pipe covers and more to enhance your water heating experience.
Bosch Downloads (PDF)
For installation manuals, see here:
More information on Bosch Hot Water Systems
For more information on Bosch hot water systems, visit the Bosch website