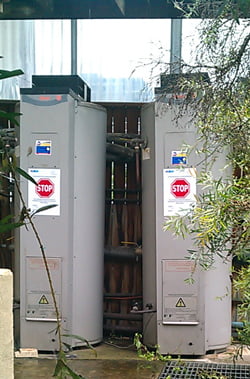 Businesses need reliable instant hot water. Australian Hot Water are experts in supplying, installing and repairing commercial hot water systems, boilers and tanks so your business never runs out.  With over  30+ years of experience, we ensure commercial hot water solutions that are customised to fit your business needs.
Commercial Hot Water System Services We Supply

The average business uses their water heater many times, every day. For that reason it is important you select the most effective and energy efficient water heater for your commercial needs. Because Australian Hot Water supply and install commercial hot water systems from the world's best hot water system manufacturers you can be assured that our systems are the most effective and energy efficient water heaters for your commercial needs.

Commercial Gas Hot Water Systems
Australian Hot Water supply and install a range of heavy duty, high efficiency commercial gas hot water systems that are designed specifically for scalability.
Commercial Instant Hot Water Heater
Australian Hot Waters supply and install continuous flow hot water heaters that  are designed to meet the high demands of multi-tenanted residential and commercial properties.
Commercial Hot Water Boilers
For safe central heating at a fraction of the price of other systems, consider opting for a commercial hot water boiler. Offering in both electric and gas models, Australian Hot Water can talk you through what's available, the differences and which is best for your business.
Commercial Solar Hot Water Systems
Australian Hot Water supplies & installs a wide range of solar water heaters. A commercial solar system normally involves a mix of both solar and conventional water heating, with the size of the latter being sufficient to provide all the hot water demands for the project under the most adverse weather conditions expected. Australian Hot Waters' solar water heater range is both innovative and highly efficient.
A choice of gas or electrical boosting is available by installing the appropriate water heaters downstream of the solar storage tanks. These are connected in series with the solar storage so all the water passes through these boosting water heaters. Under good solar conditions, the thermostats on the boosting water heaters will "recognise" the preheated water and no heating will occur except for maintenance operation. If, however, unusable water enters the boosting water heaters, the thermostats will react and boosting will take place. The thermostats on these units are set down to the minimum usable water temperature in order to get the maximum solar contribution.
If you are considering solar hot water heater installation; Australian Hot Water's experienced hot water experts can advise you on a solar solution that is right for your business just call 13 21 13.
Solar Hot Water Government Rebates & Incentives
The government offers various rebates & incentives to help encourage people to fit Solar Hot Water Tanks & Solar Hot Water Systems. Click here to find out what solar hot water rebates that you may be entitled to.
Commercial Hot Water System Service & Repair
Australian Hot Water have vast experience with servicing and repairing commercial hot water heaters, even commercial water heaters that have long been out of production. For all your commercial hot water system service & repair needs call the name you can trust, Australian Hot Water.
Commercial Premises We Service
* Retailers - shopping centres, and gyms/spas/healthclubs
* Hotels/motels, pubs/clubs, restaurants
* Heavy manufacturing, light manufacturing, warehouses and DC's
* Places of Interest such as sporting arenas, senior care facilities, schools and Universities and places of worship 
Branches are strategically located to service all areas of Sydney, Melbourne, North Coast NSW, Gold Coast QLD, Canberra, and Newcastle. Service centres are located in Sydney at Alexandria, Belmore, Caringbah, Leumeah, Moorebank, Mona Vale and Seven Hills, Port Melbourne, Cardiff in Newcastle, Fyshwick in Canberra, in regional NSW at Ballina and Lorne and in Burleigh Heads on the Gold Coast QLD.